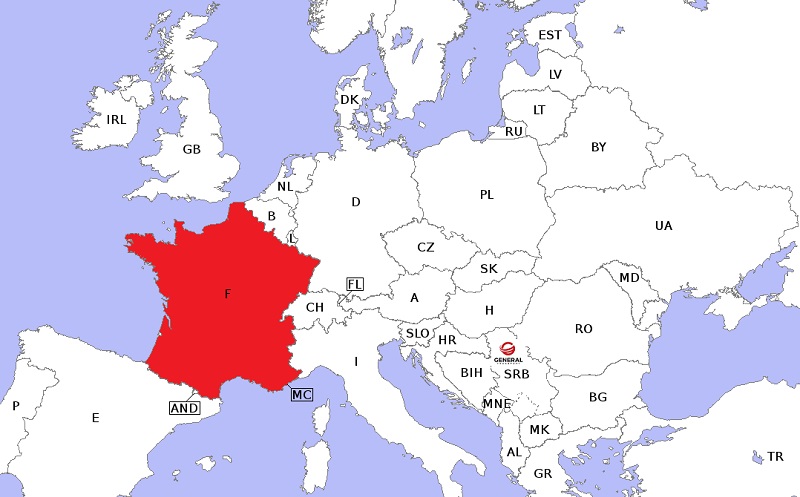 Transportation of Goods to France
Transportation of Goods to France – safe and on time with General Transport
In 2010, France and Serbia have concluded an Interim Trade Agreement after which the trade exchange between the two countries has almost doubled.
In 2017 alone, as much as 881.5 million euros was generated in foreign trade, of which 443.6 million euros came from imports, and EUR 437.9 million from exports of goods. France was Serbia's 14th trading partner that year, with 2.9% of the total trade.
In the first half of 2018, there was an additional increase in trade by as much as 8.2%, compared to the same period of the previous year.
Only certain types of Serbian products are imported from France, but the export of French products to Serbia is very diverse.
Import and export of goods to France
Do you need to import or export to France, or do you want to improve the logistics of your business with France? General Transport is your reliable and responsible partner!
We organize regular, weekly, collective transportation between France and Serbia in our own organization and with the help of our associates. In conjunction with freight forwarding, customs warehousing and customs clearance services, that creates additional value for our clients. Also, we are able to provide precise information of the transportation and tracking of goods in real time. We are extremely proud of the precision and transparency of our services.
We believe that our customers' satisfaction is a priority – our logistics services are transparent and we tend to provide assistance and support to our clients as much as possible. Regardless of the size and type of goods – we treat everything with equal care so that the goods arrive in perfect condition to their destination.
Our managers will take care of every aspect of transportation – local delivery and shipping, packaging, dispatching, consulting and insurance of goods.
In agreement with you, we pick up the goods at a certain place and transfer them to the desired destination as soon as possible. We pack and prepare the goods for transportation, loading and unloading. In addition to our services, we can offer you customs forwarding and customs clearance.
If you need international transport of goods to the French market, you are in the right place! Contact us and we will come up with the most efficient solution for your needs as soon as possible.